30,000 SF of Industrial and Distribution Warehouse Space Available in Indianapolis, IN
This property is zoned I-4 for manufacturing and logistics applications. Ceiling height is 28 ft. 25-ton overhead bridge crane and rail service optional.   Up to 30,000 square foot configuration remains available! Secured yard storage up to 50,000 SF  available. Location is ideal for rail warehouse utilizing flatbed delivery. 
3000 S Shelby St – 1st Floor, Suite Building 1
This facility offers 28 ft. rafter height, oversized back-in door, indoor truck well,  heavy-duty floors, high ceiling, shared restroom, shipping office, yard storage. Convenient access to I-65 and all major interstates. Remote surveillance cameras available for tenant access. Property now offers Fiber Optic telecommunications connections. 25-ton interior bridge crane and rail service optional.
1 "extra wide" back in door
Shared access to one truck well
Heavy-duty floors.
Location provides easy access to the interstate
Includes 100 SF modular dock office
Translucent panels for improved natural lighting
T-5 lighting
28' rafters
Outside storage available
Concrete Storage Pad 4: As of March 1, 2021, we will have 5000 to  20,000 sq. ft. of outdoor storage. Secured by 8 ft. chain link fence with 1 ft. of barbed wire on top; with privacy slats. Gates are controlled by numeric touch-pad security. Three surveillance cameras allow for views of the yard and perimeters.  One acre storage pad with drive-in access to building 3 and building 5. Two straight-truck docks and "grade-level" accessible. Fencing and security entrance gates.
Concrete Storage Pad 6: As of March 1, 2021 we will have approximately 15000 of secured outdoor storage on Service pad 6. This enclosure is secured by an 8 ft. chain-link fence with privacy slats and topped with one-foot of barbed wire. There is a double- 10 ft. swing gate. The enclosure is monitored by two surveillance cameras.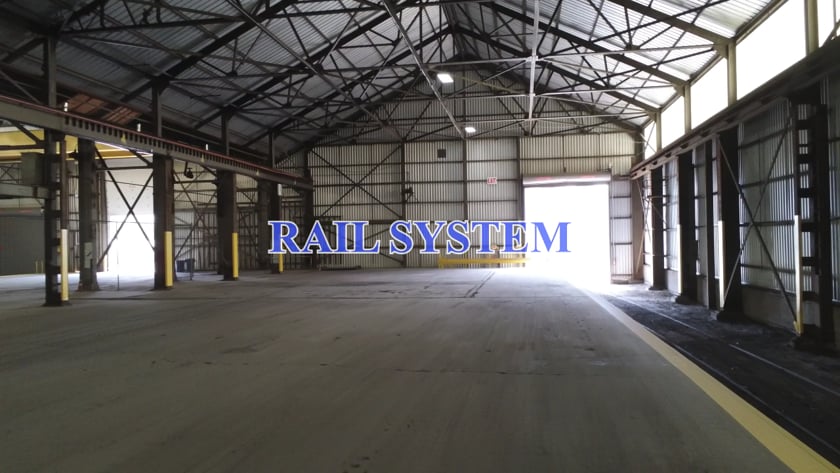 1 mile from I-65, connect to all major interstates. Great location for  heavy equipment storage, rail reload, construction material storage. Large yard storage area with additional secured yard storage available. Includes a small shipping office and restroom. Rail served by CSX.